Topstyles Hair Salon
http://www.salontopstyles.com





(1 Client Reviews)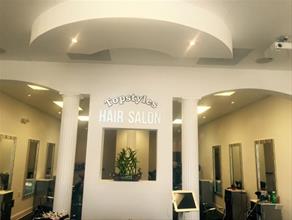 About Us
Topstyles Hair Salon is full service hair salon & barber shop, a fantasy &
relaxing salon. The salon is located directly across the street from North
Georgia University; walking distance between Wells Fargo and Walmart.
Appointment & Walk-ins Welcome


Meet Our Staff
Directions
Client
Men's Cut 12:00
Women's Cut 15:00 Up
Color 45 Up
Highlights 65 Up
Perms 50 Up

Payment Methods
We take all major credit card
Services
We offer haircut, hair design, highlights, all-over
color, corrective color, perms, relaxer, hair
treatment, Keratin treatment, makeup, up-do, facials,
eyelash
Specialties
A special thing that my clients remember is that our
stylists are polite, friendly and easy to work with.
You will not be disappointed about our services. Our
team of talented and attentive stylists is dedicated to
helping you achieve your individual styling goals.
Products
We incorporate the latest
techniques and products
coupled with traditional
service to provide an
unforgettable experience each
time you visit.
Organizations
Professional Cosmetologists
and Eyelash Expertise

Choosing this Member for your service? Please
click HERE
to let us know so we can contact this Listing for Service Quality. We want to make sure you have a great experince!
Thank You,
SalonSearch.com