Allure Laser & Med Spa
http://allurelasermedspa.com/





(0 Client Reviews)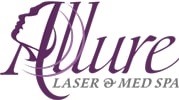 About Us
Allure Laser & Med Spa offers Tinley Park, IL residents a wide variety of
services. The team at Allure Laser & Med Spa is led by Dr. Toni Scott-Terry, a
Gynecologist and Aesthetic Specialist with more than 20 years of experience as a
private practice physician. As a physician guided center, we realize the
importance of treating both inner and outer beauty.


Meet Our Staff
Directions
Payment Methods
Cash, Visa, Mastercard,
American Express, Personal
Check, ATM / Debit, Discover
Services
Bioidentical Hormones, Weight Loss, Botox, Permanent
Makeup, Microdermabrasion

Choosing this Member for your service? Please
click HERE
to let us know so we can contact this Listing for Service Quality. We want to make sure you have a great experince!
Thank You,
SalonSearch.com