Empire Beauty School
http://www.empire.edu/cosmetology-schools/minnesota/brooklyn-park-fridley





(0 Client Reviews)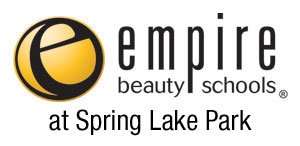 About Us
Empire Beauty School Spring Lake Park is part of one of the largest Cosmetology
School networks in North America, with more than 100 schools in 22 states and
20,000 students currently enrolled and training annually for professional
careers in the beauty industry. Come visit our campus and experience a wonderful
service or take a tour of our school and consider a career in cosmetology.


Meet Our Staff
Directions
Services
Hair Services, Nail Services, Skin Services, Mini
Treatments
Specialties
Cosmetology, Cosmetology School, Beauty School, Health
& Beauty

Choosing this Member for your service? Please
click HERE
to let us know so we can contact this Listing for Service Quality. We want to make sure you have a great experince!
Thank You,
SalonSearch.com