Ego Styles Hair Salon & Spa
http://www.egostyles.com





(1 Client Reviews)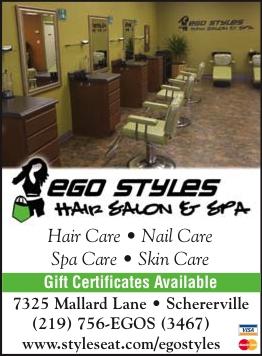 About Us
Step into Ego Styles Hair Salon & Spa and discover our state of the art
professional salon & spa with a warm, elegant, and relaxed atmosphere. We draw
out the best features & translates them into a unique statement of trendy and
easy to manage hair design. We believe "hair and skin is a fashion accessory"
and our job is to keep every client looking beautiful and feeling great.


Meet Our Staff
Employment Opportunities Available Here
Directions
Payment Methods
amex, debit, cash, check, and
all major credit cards
Services
From trendy hair styles, haircuts, nails, massages,
body waxing, and facials we promise to make you feel
good and look your best.
Specialties
We are proud to be a vegan salon. Focusing on Natural
hair, Nail, and Skin. Using vegan natural products.
​We specialize in multicultural and unisex
services.
Products
For products please check out
our video below. Thanks!

Choosing this Member for your service? Please
click HERE
to let us know so we can contact this Listing for Service Quality. We want to make sure you have a great experince!
Thank You,
SalonSearch.com